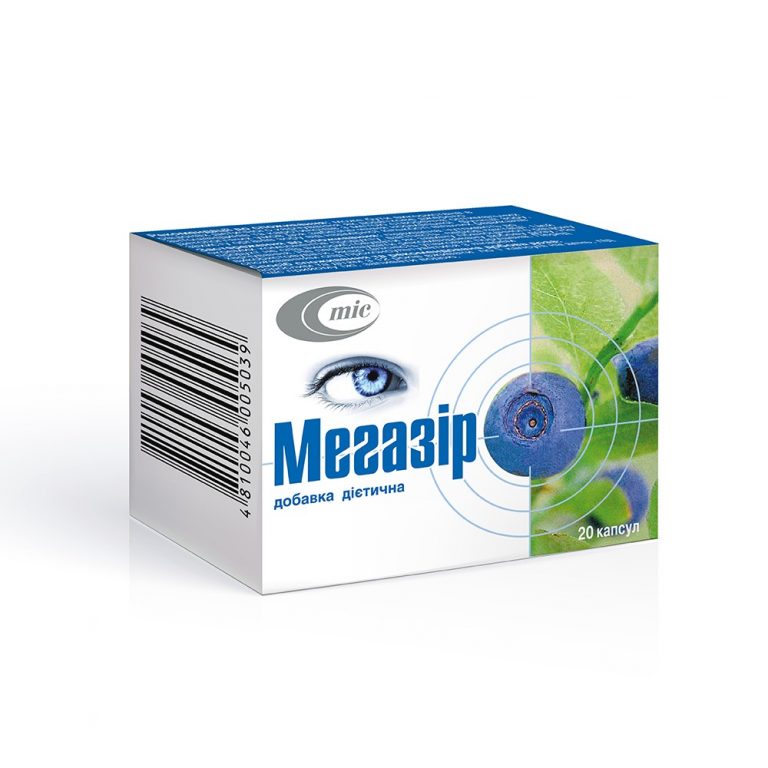 Megazir
Manufacturer: Republican Unitary Enterprise «Minskintercaps», the Republic of Belarus
Active ingredients:
blueberry extract, lutein, zeaxanthin
Indications for use:
A complex ophthalmologic drug has an anti-inflammatory and antioxidant effect, it accelerates regeneration of discoloured rhodopsin, provides protection of photoreceptor retinal cells. It is used for prevention and complex treatment of myopia, diabetic and hypertonic retinopathy, disorders of mechanisms of night vision adaptation, retinal dystrophic diseases, age-related retinal macular degeneration, cataract, retinal vascular occlusions, visual asthenopia.
1 capsule contains:
dry standardized blueberry extract (25 % anthocyanidins) calculated as anthocyanidins 44,25 mg, lutein 20 % FS calculated as lutein 6 mg, zeaxanthin 20 % FS calculated as zeaxanthin 1,2 mg.
Capsules №20 in blister